IT Service, Support & Network Management for Dubuque and Beyond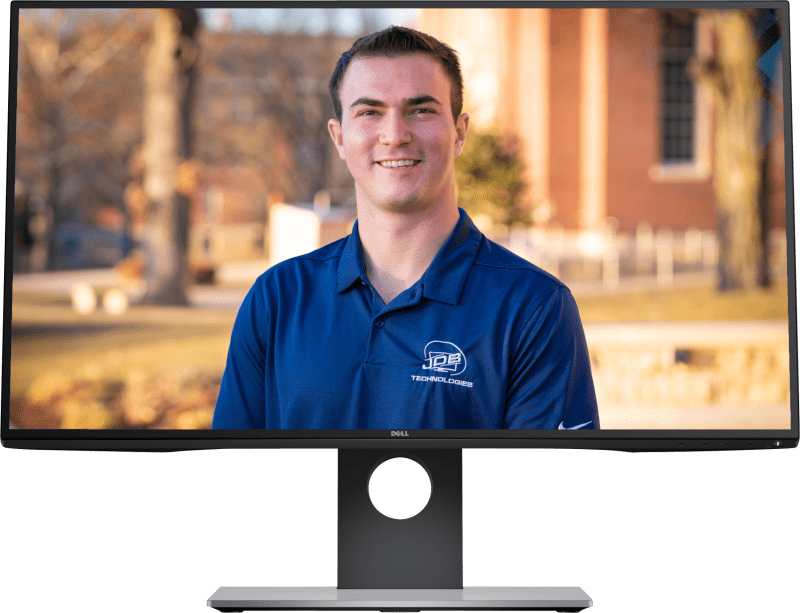 Our team treats our clients like business partners.
We use our experience and knowledge of technology to ensure your success through managed IT services, expert tech support, and proactive network management.
Save time and money
Hiring, training, and maintaining a full IT staff that would meet organizational requirements just isn't feasible for most small and mid-sized organizations due to a lack of time and/or budget. Managed Service Providers give you access to a full team of experts, without having to pay their salary.
Compliance
Organizations that operate under compliance regulations benefit from an Managed Service Provider, like JOB Technologies. It's not easy to know everythDigital protection and evolving compliance laws mean that knowing everything is tough. We make sure your systems are safe, secure, and ready for any audit.
Security
There are many data destroyers looking to bring down your business. A company like ours will help you plan for the worst by protecting your data and ensuring that you can recover from a disruptive event. We will also help protect your network from cybercriminals and the ever-present threat of ransomware.
Our goal is to provide the tools, knowledge and confidence along with our committment to help improve our customers' daily technological operations, connection and accessibility.
NETWORK INSTALL & MANAGEMENT
Our Mission is to empower people and small businesses to achieve their full technological potential.
Your tech is  broken and you need help. The usual suspects show up…craigslist techies, flaky family & friends, the "Ackchyually" guy. Then they either never showed up to install, fix, or replace your broken tech, or gave you 900 excuses.
We've got your back. We'll get to you on time, with the appropriate gear, happily explain what needs to happen, and get it done with a positive attitude.
The world of technology moves faster than a cat on a hot tin roof. To stay ahead of changes in hardware, software, networking, security, data safety, compliance, and industry best practices, we've partnered with the best minds in the industry.
JOB Technologies and our partners keep a finger on technologies pulse to better help you accomplish your goals.
JOB Technologies is second to none, the customer service and efficient communication skills immediately stood out to me. Having gone from working with my internet provider's "specialists" to working with Jon was night and day. Jon helped walk me through step by step to set up my new modem, which our internet provider said "did not work" because it wasn't one of their modems you have to rent. JOB Technologies should be the go to for all your IT needs; whether it be residential or commercial, Jon is your guy!
Thank you Jon and JOBTechnologies! After moving into a new residence, I was in need of some network setup assistance, as I had no clue where to start. Jon was able to help set up my accounts, install new network switches and devices around my home, and even route wires to difficult locations for better connections. Jon wasn't hesitant to answer any of the dumb questions I had either. My network setup is now clean, organized, and easy for even me to understand. I couldn't be happier. Thanks JOBTech!
Jon O'Brien, founder and owner, took the time to review our house plans, research our
location, and find us the best options for internet, streaming service, and overall setup. He came out to our house multiple times while it was being built, spoke with our contractors, and provided them with plans for how to wire our house. Once our house was wired, Jon came back out and installed all of his equipment in just a few short hours. He not only set up our pods for internet, he also set up our Nest smart thermostats, Google Home, and Ring Doorbell. Jon went above and beyond to make sure our house was built for top notch internet without us having to spend a fortune. We strongly recommend Jon and Job Technologies for any of your home and/or business IT needs!
I had JOB Technologies come over to my parent's house to figure out the problems that they've been experiencing with their internet. The WiFi was extremely slow, and there were dead spots in certain parts of the house. This led to a lot of unnecessary data usage and extra costs because of it. Jon also walked them through the best internet providers and how to change their current plan. He explained things thoroughly and in a way my technologically impaired family members could understand (lol). He is a personable, stand up guy and we were really lucky to find someone who puts all of their time and energy into each client. If you need literally any help with tech stuff, Jon is someone I highly recommend.
Your Friendly Neighborhood IT GUYS